Open Access, Open Data, and Open Educational Resources
Announcing: Original Études for the Developing Conductor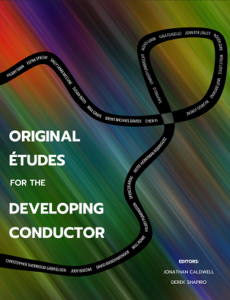 The Open Education Initiative at Virginia Tech is pleased to announce a new peer-reviewed open textbook, Original Études for the Developing Conductor (2023), edited by Jonathan Caldwell and Derek Shapiro respectively of University of North Carolina – Greensboro and Virginia Tech and available at https://doi.org/10.21061/conducting.
Are you an instructor reviewing or adopting this book for an instructional purpose?
Instructors adopting or reviewing this text are encouraged to record their use at https://bit.ly/original-etudes-interest. This helps the book's sponsors to understand this open textbook's impact.
This collection of 25 original musical scores and parts is designed for use as a supplement for conducting education at advanced undergraduate and graduate levels. Études range from thirty seconds to four minutes in length and are original compositions designed to create a unified musical narrative. Each étude has an introductory page that includes a link to a MIDI realization (MP4) of the étude, a list of the parameters of the commission, additional pedagogical opportunities identified by the editors, information about the étude and composer, and a link to the composer's website. Études were commissioned from a group of 65 invited composers from historically excluded groups, and composed by 25 living composers according to a set of musical characteristics and pedagogical opportunities designated by the editors.
In the words of the editors, "Our hope is that this book will better prepare conducting students for the musical world they are entering while also reinforcing the existing pedagogical goals of conducting teachers across the United States and beyond. Despite the fact that conducting pedagogy is continually evolving, the examples students encounter in conducting classes tend to remain the same. By meeting the needs of modern students while also celebrating the voices of a diverse cross-section of contemporary composers, we hope this book offers a significant contribution to conducting pedagogy that supports the classroom goals of any conducting teacher regardless of pedagogical approach. As a zero-cost, openly licensed supplemental text featuring the music of many composers who have been historically excluded, we hope this book addresses current pedagogical issues of equity, diversity, inclusion, and access in a meaningful way. We also hope that the way music is published and navigated within a digital environment will change as a result of this publication."
Extensive efforts have been undertaken to ensure the usability of this resource:
– The text is freely available in multiple digital formats including high and resolution PDFs of scores and parts, and of scores only;
– An introductory table displays musical characteristics and commissioned elements for each étude;
– Layout, design, and navigation of the text were specifically designed for ease of digital download and navigation including in-document links which enable navigation within the overall book through a linked table of contents, navigation to and within individual scores, parts, and back to the score from each part.;
– PDFs may be self-printed and are also available to order as a "scores only" spiral-bound softcover print-on-demand version.
Links and QR codes direct digital and print users to MIDI realizations (MP4s) available via a YouTube playlist, or to the book's main landing page.
– In the digital "scores and parts" version, links at the bottom of each cover page enable the reader to "jump to" transposed parts for their instrument, return to the linked table of contents, or visit the main landing page of the resource.
– To enable accessibility for musicians who are blind or have low vision, the text, images, and links in the PDF versions of this text are tagged structurally and include alternative text, which allows for machine readability. Alternative text for scores and parts is scheduled to be available in late 2023.
ISBN 978-1-957213-51-4 (PDF – scores and parts)
ISBN 978-1-957213-52-1 (PDF – scores only)
ISBN 978-1-957213-53-8 (Print – scores only)
Order a print copy in color or black and white from: https://www.printme1.com/preview/863a16af1.
Featured Composers
1) Arias, Spencer: The Jester
2) Biedenbender, David: Swirl
3) Botti, Susan: Vespers (Walking in Beauty)
4) Bozone, Judy: Lyrah
5) Browne, Matthew: Saunter
6) Browne, Matthew: Tarantella
7) Bumgarner, Trevor: Choppy Frontier
8) Chen, Yi: Ban (Beat)
9) Davids, Brent Michael: Native American Étude
10) Flagello, Gala: Bulletproof
11) Grafe, Max: Fanfare With Afterimages
12) Herryman Rodriguez, Ivette: Tumbao Pesante
13) Jolley, Jennifer: Legend of the Moonlight Above
14) Joyce, Molly: Offbeat
15) Lamb, Alexis: Addolcimento (Sweetly, Softening)
16) Lambrecht, Lynnsey: Festive Fugue
17) Li, Shuying: Étude for Conductors
18) Lorenz, Ricardo: Estudio a Cuatro Voces
19) McCune, Sally Lamb: Pony Hollow Trail
20) Purrington, Hilary: Keepsake
21) Rowe, Will: Loose Canon
22) Sherwood-Gabrielson, Christopher: Last Waltz in Paris
23) Specht, Elena: Fortress
24) Tann, Hilary: Moonrise
25) Zare, Roger: Reverie
Suggested Citation: Caldwell, Jonathan and Shapiro, Derek (2023). Original Études for the Developing Conductor. Blacksburg: Virginia Tech School of Performing Arts. https://doi.org/10.21061/conducting. Licensed with CC BY NC-SA 4.0.

About the Editors
Jonathan Caldwell, Lead Editor: Jonathan Caldwell is the director of bands and assistant professor of conducting at the University of North Carolina at Greensboro, where he conducts the Wind Ensemble and Symphonic Band and teaches undergraduate and graduate conducting. Prior to his appointment at UNCG, Caldwell held positions at Virginia Tech, the University of Wisconsin–Stevens Point, and Garner Magnet High School (Garner, NC). His writing has been published in the Journal of Band Research and the Teaching Music Through Performance in Band series. He has given presentations for the Midwest Band and Orchestra Clinic, the College Band Directors National Association, the Internationale Gesellschaft zur Erforschung und Förderung der Blasmusik (IGEB), and at music educator conferences in North Carolina and Virginia.
Derek Shapiro, Lead Editor: Derek Shapiro is the director of bands and assistant professor of music at Virginia Tech, where he conducts the Virginia Tech Wind Ensemble and teaches conducting. Prior to his appointment at Virginia Tech, he held positions at Eastern Michigan University, Georgia Southern University, and Cypress Creek High School. A strong advocate for music education with nine years of public school experience, Shapiro has taught at the middle school and high school levels. He has been published in the Teaching Music Through Performance in Band series and has presented at clinics in Florida, North Carolina, Michigan, and Virginia.
Found an Error? Tell us
Report an Error
View Errata
Funding and Project Support
Funding for the project was granted via the Collaborative Research Grants project of the University Libraries at Virginia Tech, the University of North Carolina at Greenboro's University Libraries/ Textbook Affordability Program (TAP), and the Open Education Initiative of the University Libraries at Virginia Tech.
The work is published by the Virginia Tech School of Performing Arts in association with Virginia Tech Publishing.
Cover design: Kindred Grey
Cover background: Omid Armin via Unsplash